Machine Picture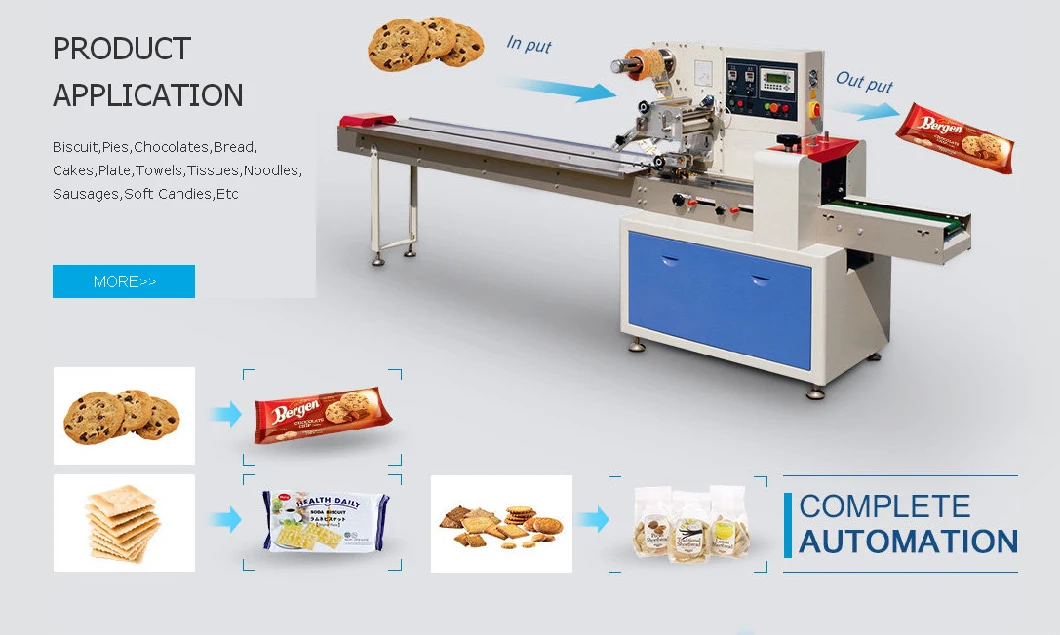 Features
1. Dual frequency conversion control, bag length can be setted and cutting in one step,saving time and films.
2. Interface features are easy and quick setting and oprating.
3. Self diagnosis failure function, clear failure display.
4. High sensitivity photoelectric eye color tracing,numerical input of cutting sealing position for extra accuracy.
5. Temperature independent PID control, suitable for packing different materials.
6. Positioned stop function,without sticking knife or wastingfilm.
7. Simple driving system,reliable working,convenient maintenance.
8. All control is realized through software,easy for function adjusting and technical upgrade.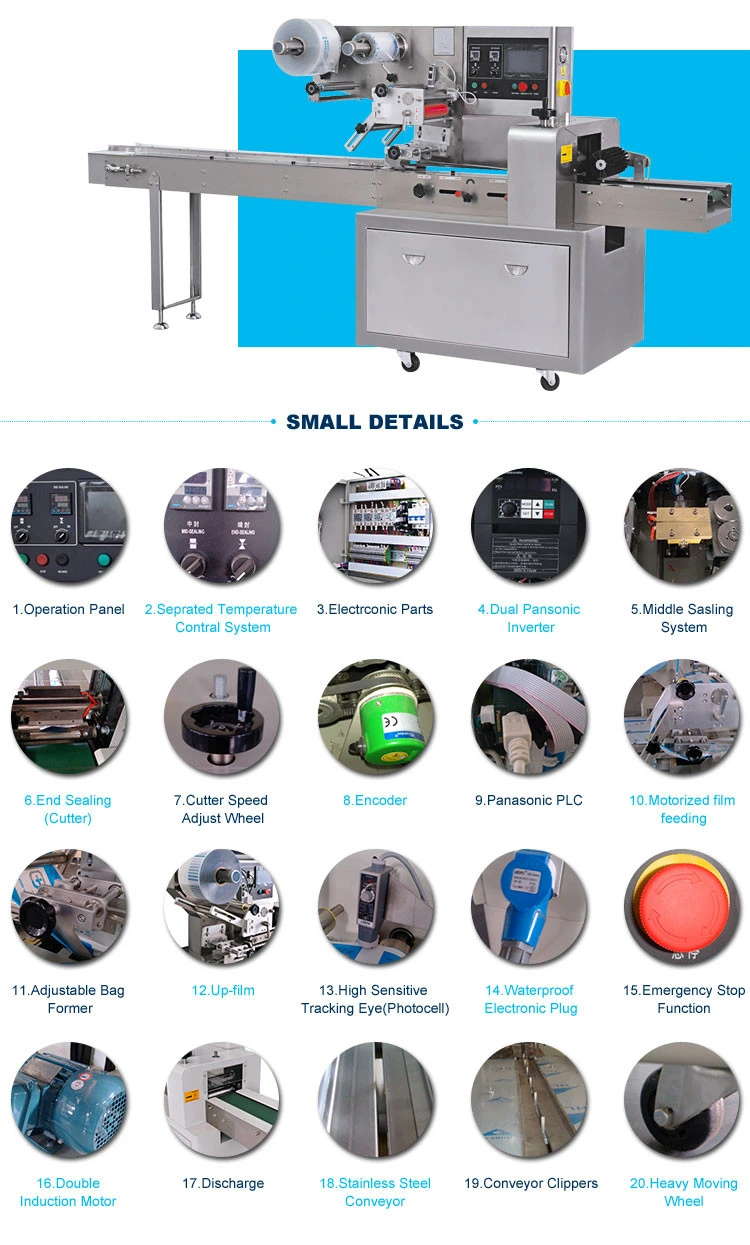 Specification



Model

MZ-250B

MZ-320D

MZ-350B

MZ-350D

MZ-400D

MZ-450

Film width

Max.250m

Max.320mm

Max.350mm

Max.350mm

Max.400mm

Max.450mm

Bag length

65~190mm




120~280mm

90~260mm




150~330mm

65~190mm




120~280mm

90~260mm




150~330mm

130~320mm

120~450mm




Bag width

30~110mm

50~160mm

50~160mm

50~160mm

30~150mm

50~180mm

Bag height

Max. 40mm

Max. 55mm

Max.45mm

Max. 60mm

Max.65mm

Max. 80mm

Roll diameter

Max.320mm

Bag speed

40~230bag/min

40~230bag/min

60-330bag/min

40~180bag/min

30~150bag/min

Power

220V,50/60HZ,2.4KW

220V,50/60HZ,2.6KW

Machine size

(L)3700×(W)670×(H)1450

(L)4020×(W)745×(H)1450

(L)4020×(W)800×(H)1450

Machine weight

600Kg

650Kg

650Kg

700Kg

750Kg
Application
Packaging various kinds of regular objects like biscuits,pies,chocolates,bread,instant noodles,moon-cakes,drugs,daily applications,industrial parts,paper boxes,tray,etc.

Machine Detailes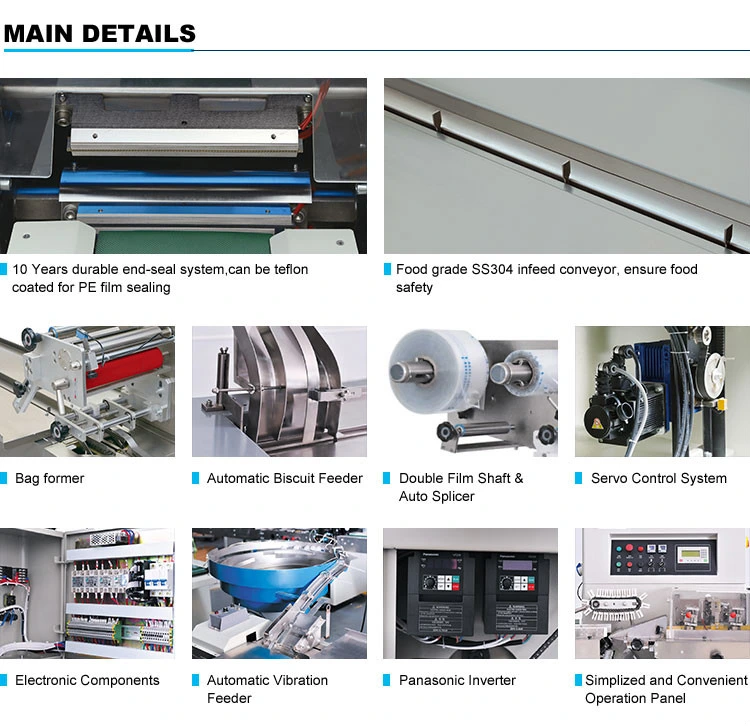 Machine Manufacturing Procedure: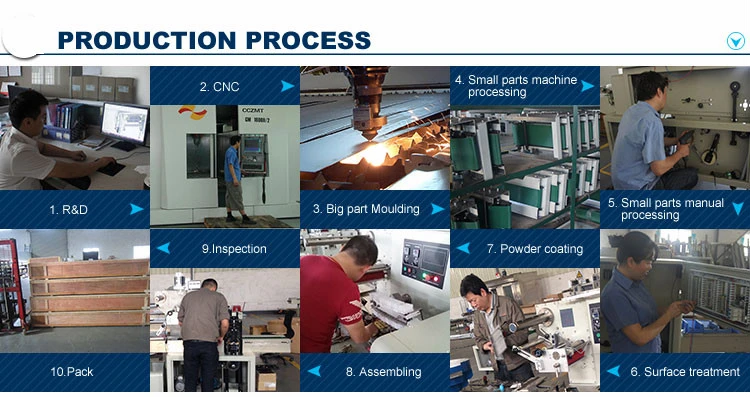 MOTECH packing machinery has established at 1999, which is the excellent packing machinery company in China. Our mission is to bring the global packaging technology and serve to the customizing local packing solutions.
Additionally, we provide series of packing machinery to suit all your packaging needs in different industries, such as strapping machinery, carton sealer, packing machine, shrink machinery, vacuum machinery, and so on. All the products has passed with quality system certification ISO9001:2000 and CE certification.
Motech packing machinery is passionately committed to creating value-added packaging solutions that empower our customers to grow, innovate and succeed. We pride ourselves on setting the industry standard in technology, efficiency and reliability in the engineering of our products. With the most experienced team in the industry, we will help you develop the perfect package to suit your product, your brand and your objectives for profitability.
This commitment begins with the first consultation and continues with comprehensive worldwide service and support for as long as you own your MOTECH.
Other machine we can provide