Tct hole saw cutter with thick metal drill bit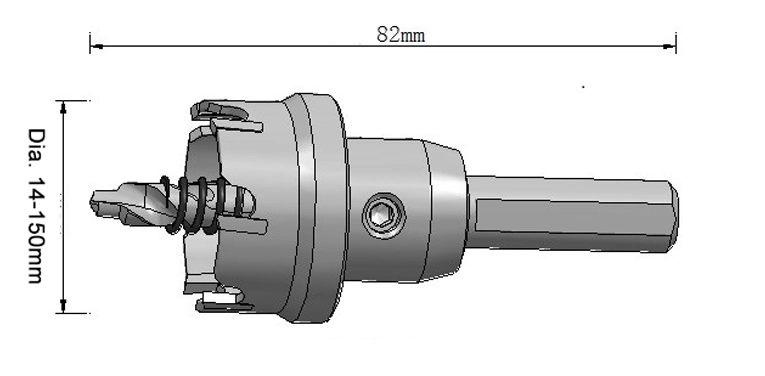 1. Made of high quality solide carbide tips, reduce the damage of tips, increase the endurance.

2. Assembled with high quality center drill and spring.

3. Maxium cutting depth of 15mm on solid plate with pistol drills, and 25mm ~50mm on solid plate with magnetic drills.

4. Shank diameter 10mm for hole Φ 16mm~34mm, and shank diameter 13mm for hole saw Φ 35mm~100mm.
| | |
| --- | --- |
| Type | Size(mm) |
| HMTS -10140 | 14*5 |
| HMTS -10150 | 15*5 |
| HMTS -10160 | 16*5 |
| HMTS -10170 | 17*5 |
| HMTS -10180 | 18*5 |
| HMTS -10190 | 19*5 |
| HMTS -10200 | 20*5 |
| HMTS -10210 | 21*5 |
| HMTS -10220 | 22*5 |
| HMTS -10230 | 23*5 |
| HMTS -10240 | 24*5 |
| HMTS -10250 | 25*5 |
| HMTS -10260 | 26*5 |
| HMTS -10270 | 27*5 |
| HMTS -10280 | 28*5 |
| HMTS -10290 | 29*5 |
| HMTS -10300 | 30*5 |
| HMTS -10310 | 31*5 |
| HMTS -10320 | 32*5 |
| HMTS -10330 | 33*5 |
| HMTS -10340 | 34*5 |
| ........ | ............ |
| HMTS -11500 | 150*5 |