PDC Drill Bit PDC non core drill bit 60mm Russia
How to get a quotation ?
Plz contact us and note the drill bit standard & size, the depth & your drilling rock formation.
Product Description
Changsha Chen Guang Utral Hard Drilling Tools
--PDC drill bits
Product Type : PDC Non-coring Bit for Water Well Drilling
High adaptability in complex formation,strong ability in removing debris and strong drilling footage,
Generally, it include the Three Wings, Four Wings, Five wings PDC Non-Coring Bits.
Details Specification & Size
| | |
| --- | --- |
| Size | 50mm, 56mm, 60mm, 65mm, 75mm, 94mm, 98mm, 113mm, 120mm, 120.5mm, 124mm, 143mm, 149mm, 152mm, 168mm, 190.5mm, 203mm, 210mm, 254mm. |
| Bit type | Pillar type, concave , three wings, four wings, A gauge, B guage, N gauge, H gauge , P gauge. |
| PDC cutter size | 1308, 1304, as customerized. |
| Body materials | Steel, Tungsten Carbide matrix. |
| Usage | geological drilling, mining, dam grouting, Water well, |
| Suitable rock | mud stone, limestone, shale, sandstone and granite etc. |
| Color | Grey, Gold, Blue ,or as customer's request |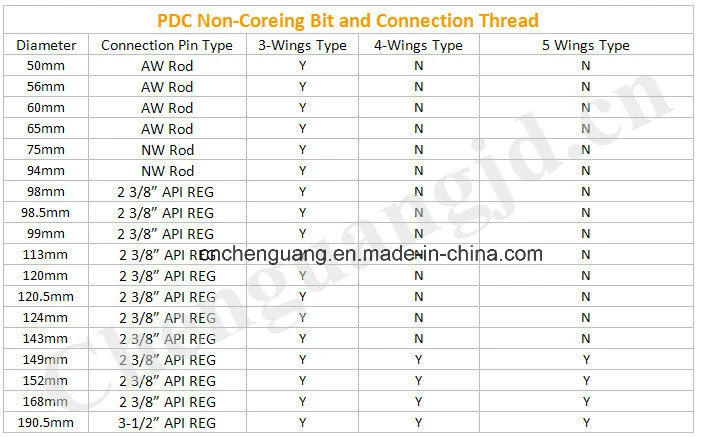 *As the design of the PDC Bits is greatly dependent on the particular application, the potential customers' special technical suggestion will help us to supply the proper PDC Bits.