Drill bits are cutting tools used to create cylindrical holes, almost always of circular cross-section. Bits are held in a tool called a drill, which rotates them and provides torque and axial force to create the hole. Specialized bits are also available for non-cylindrical-shaped holes.
HSS drill Standard: DIN 338 (jobber series), DIN 340 (long series), DIN 1897 (stub series)
Manufacturing Process: Fully Ground, Milled, Rolled, Edge Ground.
Material: HSS4241, HSS4341, HSS6542(M2), HSS Cobalt 5% (M35 Co5%)
Surface: Black finish, Bright finish, Black & Bright finish, Tin-coated Finish, Amber / Coffee Finish, Rainbow Color Finish.
Packing: PVC Pouch, Paper Box, Plastic Box, Plastic tube, Metal Box or as per the customer's requirement.
Size: 1mm-30.0mm
Point Angle: 118° or 135° (Split Point are available from 3.0mm)
Application: For drilling steel, cast steel, grey cast iron, malleable iron, sintered metal, low hardness alloyed.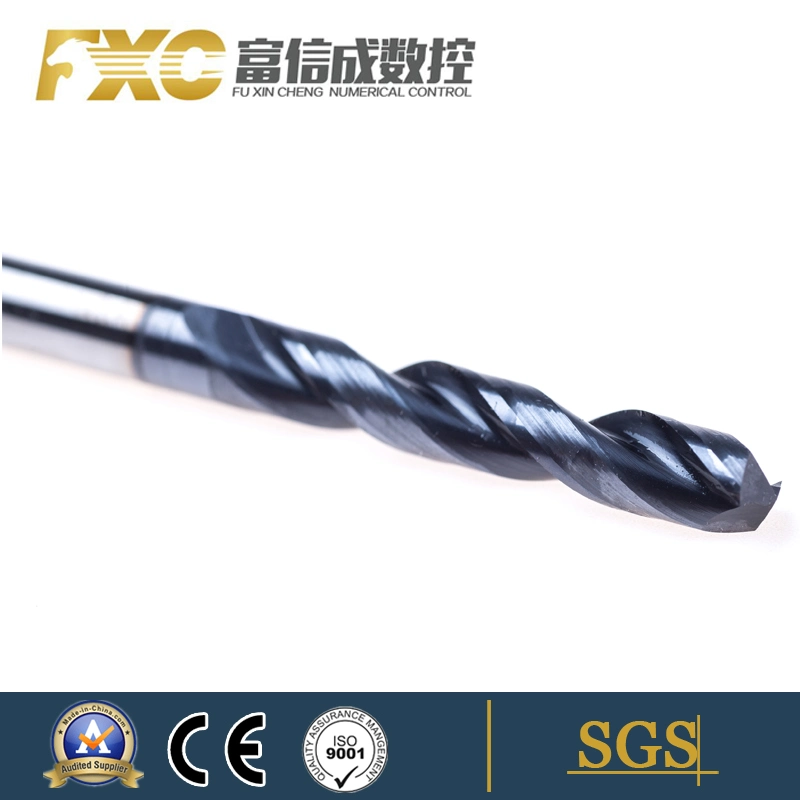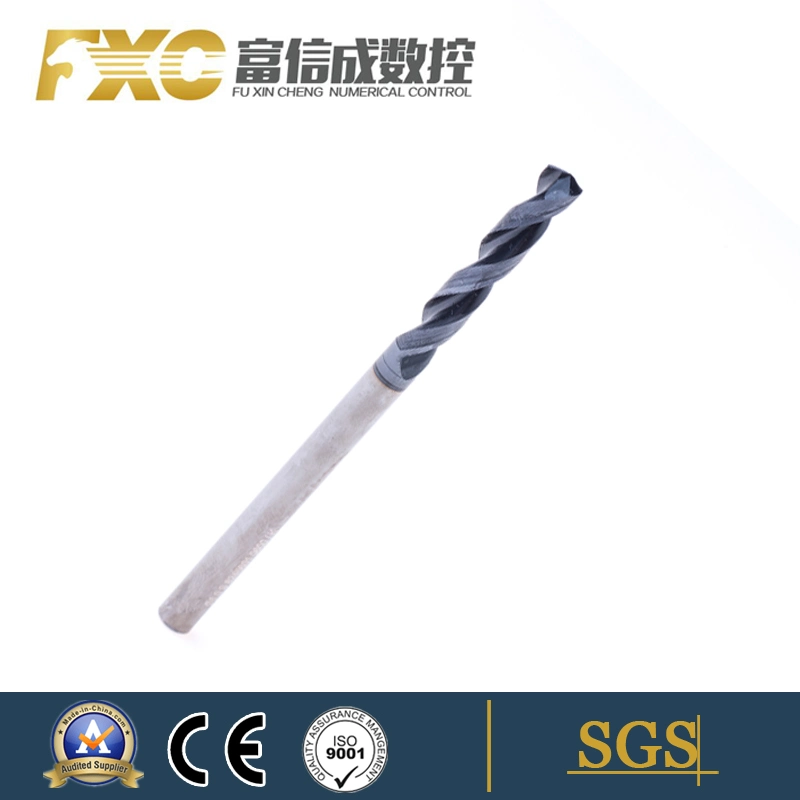 | | | | | |
| --- | --- | --- | --- | --- |
| | Shank dia (mm) | Flute dia (mm) | Flute Length (mm) | O.A.L(mm) |
| 3xD | 6 | M 3.4 | 20 | 62 |
| 3xD | 6 | M. 3.5 | 20 | 62 |
| 3xD | 6 | M. 3.8 | 24 | 66 |
| 3xD | 6 | M. 4 | 24 | 66 |
| 3xD | 6 | M. 4.2 | 24 | 66 |
| 3xD | 6 | M. 4.3 | 24 | 66 |
| 3xD | 6 | M. 4.5 | 24 | 66 |
| 3xD | 6 | M. 4.8 | 28 | 66 |
| 3xD | 6 | M. 5 | 28 | 66 |
| 3xD | 6 | M 5.1 | 28 | 66 |
| 3xD | 6 | M. 5.2 | 28 | 66 |
| 3xD | 6 | M. 5.5 | 28 | 66 |
| 3xD | 6 | M. 5.8 | 28 | 66 |
| 3xD | 6 | M. 6 | 28 | 66 |
| 3xD | 8 | M. 6.1 | 34 | 79 |
| 3xD | 8 | M 6.2 | 34 | 79 |
| 3xD | 8 | M. 6.5 | 34 | 79 |
| 3xD | 8 | M. 6.8 | 34 | 79 |
| 3xD | 8 | M. 6.9 | 34 | 79 |
| 3xD | 8 | M. 7 | 34 | 79 |
| 3xD | 8 | M. 7. | 41 | 79 |
| 3xD | 8 | M 7.5 | 41 | 79 |
| 3xD | 8 | M 7.8 | 41 | 79 |
| 3xD | 8 | M. 8 | 41 | 79 |
| 3xD | 10 | M. 8.1 | 47 | 89 |
| 3xD | 10 | M. 8.2 | 47 | 89 |
| 3xD | 10 | M 8.5 | 47 | 89 |
| 3xD | 10 | M. 8.6 | 47 | 89 |
| 3xD | 10 | M 8.8 | 47 | 89 |
| 3xD | 10 | M. 9 | 47 | 89 |
| 3xD | 10 | M. 9.2 | 47 | 89 |
| 3xD | 10 | M. 9.5 | 47 | 89 |
| 3xD | 10 | M. 9.8 | 47 | 89 |
| 3xD | 10 | MM.10 | 47 | 89 |
| 3xD | 12 | MM.10.2 | 55 | 102 |
| 3xD | 12 | MM.10.3 | 55 | 102 |
| 3xD | 12 | MM.10.5 | 55 | 102 |
| 3xD | 12 | MM.10.6 | 55 | 102 |
| 3xD | 12 | MM.10.8 | 55 | 102 |
| 3xD | 12 | MM.11 | 55 | 102 |
| 3xD | 12 | MM.11.2 | 55 | 102 |
| 3xD | 12 | MM.11.5 | 55 | 102 |
| 3xD | 12 | MM.11.8 | 55 | 102 |
| 3xD | 12 | MM.12 | 55 | 102 |
| 3xD | 14 | MM.12.2 | 60 | 107 |
| 3xD | 14 | MM.12.5 | 60 | 107 |
| 3xD | 14 | MM.13 | 60 | 107 |
| 3xD | 14 | MM.13.5 | 60 | 107 |
| 3xD | 14 | MM.14 | 60 | 107 |
| 3xD | 16 | MM.14.2 | 65 | 115 |
| 3xD | 16 | MM.14.5 | 65 | 115 |
| 3xD | 16 | MM.15 | 65 | 115 |
| 3xD | 16 | MM.15.5 | 65 | 115 |
| 3xD | 16 | MM.16 | 65 | 115 |
| | | | | |
| --- | --- | --- | --- | --- |
| | Shank dia (mm) | Flute dia (mm) | Flute Length (mm) | O.A.L(mm) |
| 5xD | 6 | M. 3 | 28 | 66 |
| 5xD | 6 | M. 3.3 | 28 | 66 |
| 5xD | 6 | M. 3.4 | 28 | 66 |
| 5xD | 6 | M 3.5 | 28 | 66 |
| 5xD | 6 | M. 3.8 | 36 | 74 |
| 5xD | 6 | M. 4 | 36 | 74 |
| 5xD | 6 | M. 4.2 | 36 | 74 |
| 5xD | 6 | M. 4.3 | 36 | 74 |
| 5xD | 6 | M. 4.5 | 36 | 74 |
| 5xD | 6 | M. 4.8 | 44 | 82 |
| 5xD | 6 | MM. 5 | 44 | 82 |
| 5xD | 6 | M. 5.1 | 44 | 82 |
| 5xD | 6 | M 5.2 | 44 | 82 |
| 5xD | 6 | M. 5.5 | 44 | 82 |
| 5xD | 6 | M 5.8 | 44 | 82 |
| 5xD | 6 | MM. 6 | 44 | 82 |
| 5xD | 8 | M. 6.1 | 53 | 91 |
| 5xD | 8 | M 6.2 | 53 | 91 |
| 5xD | 8 | M. 6.5 | 53 | 91 |
| 5xD | 8 | M 6.8 | 53 | 91 |
| 5xD | 8 | M. 6.9 | 53 | 91 |
| 5xD | 8 | MM. 7 | 53 | 91 |
| 5xD | 8 | M. 7.2 | 53 | 91 |
| 5xD | 8 | M. 7.5 | 53 | 91 |
| 5xD | 8 | M. 7.8 | 53 | 91 |
| 5xD | 8 | MM. 8 | 53 | 91 |
| 5xD | 10 | M 8.1 | 61 | 103 |
| 5xD | 10 | M 8.2 | 61 | 103 |
| 5xD | 10 | M. 8.5 | 61 | 103 |
| 5xD | 10 | M 8.6 | 61 | 103 |
| 5xD | 10 | M. 8.8 | 61 | 103 |
| 5xD | 10 | MM. 9 | 61 | 103 |
| 5xD | 10 | M. 9.2 | 61 | 103 |
| 5xD | 10 | M. 9.5 | 61 | 103 |
| 5xD | 10 | M 9.8 | 61 | 103 |
| 5xD | 10 | MM.10 | 61 | 103 |
| 5xD | 12 | MM.10.2 | 71 | 118 |
| 5xD | 12 | MM.10.3 | 71 | 118 |
| 5xD | 12 | MM.10.5 | 71 | 118 |
| 5xD | 12 | MM.10.6 | 71 | 118 |
| 5xD | 12 | MM.10.8 | 71 | 118 |
| 5xD | 12 | MM.11 | 71 | 118 |
| 5xD | 12 | MM.11.2 | 71 | 118 |
| 5xD | 12 | MM.11.5 | 71 | 118 |
| 5xD | 12 | MM.11.8 | 71 | 118 |
| 5xD | 12 | MM.12 | 71 | 118 |
| 5xD | 14 | MM.12.2 | 77 | 124 |
| 5xD | 14 | MM.12.5 | 77 | 124 |
| 5xD | 14 | MM.13 | 77 | 124 |
| 5xD | 14 | MM.13.5 | 77 | 124 |
| 5xD | 14 | MM.14 | 77 | 124 |
| 5xD | 16 | MM.14.2 | 83 | 133 |
| 5xD | 16 | MM.14.5 | 83 | 133 |
| 5xD | 16 | MM.15 | 83 | 133 |
| 5xD | 16 | MM.15.5 | 83 | 133 |
| 5xD | 16 | MM.16 | 83 | 133 |