Product Specification
Characteristic:
1, Using high-quality steel 6542, produce by advanced rolling process. The vertex is 135°, and open double rear angle, can be fully improve the durability of the drill bit and centering performance.
2, Head special sharpening,high hardness,in the drilling of the workpiece material, especially stainless steel has excellent performance.
3, Molding by one time, with a higher wear resistance and better toughness.
Notice: The drilling speed must be appropriate, the gravity center must be stable when work.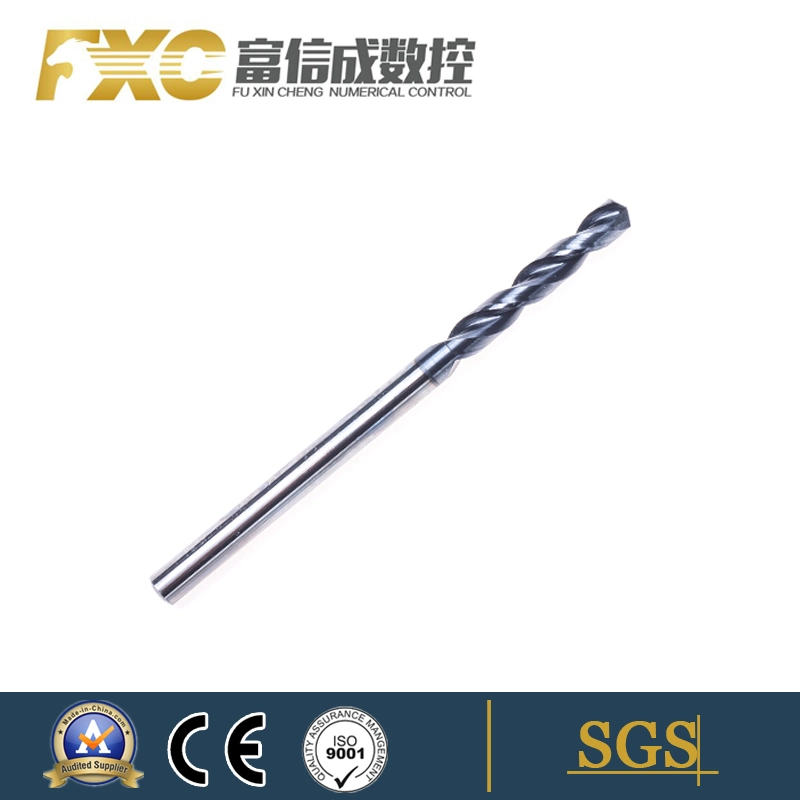 | | | | | |
| --- | --- | --- | --- | --- |
| | Shank dia (mm) | Flute dia (mm) | Flute Length (mm) | O.A.L(mm) |
| 3xD | 6 | M 3.4 | 20 | 62 |
| 3xD | 6 | M. 3.5 | 20 | 62 |
| 3xD | 6 | M. 3.8 | 24 | 66 |
| 3xD | 6 | M. 4 | 24 | 66 |
| 3xD | 6 | M. 4.2 | 24 | 66 |
| 3xD | 6 | M. 4.3 | 24 | 66 |
| 3xD | 6 | M. 4.5 | 24 | 66 |
| 3xD | 6 | M. 4.8 | 28 | 66 |
| 3xD | 6 | M. 5 | 28 | 66 |
| 3xD | 6 | M 5.1 | 28 | 66 |
| 3xD | 6 | M. 5.2 | 28 | 66 |
| 3xD | 6 | M. 5.5 | 28 | 66 |
| 3xD | 6 | M. 5.8 | 28 | 66 |
| 3xD | 6 | M. 6 | 28 | 66 |
| 3xD | 8 | M. 6.1 | 34 | 79 |
| 3xD | 8 | M 6.2 | 34 | 79 |
| 3xD | 8 | M. 6.5 | 34 | 79 |
| 3xD | 8 | M. 6.8 | 34 | 79 |
| 3xD | 8 | M. 6.9 | 34 | 79 |
| 3xD | 8 | M. 7 | 34 | 79 |
| 3xD | 8 | M. 7. | 41 | 79 |
| 3xD | 8 | M 7.5 | 41 | 79 |
| 3xD | 8 | M 7.8 | 41 | 79 |
| 3xD | 8 | M. 8 | 41 | 79 |
| 3xD | 10 | M. 8.1 | 47 | 89 |
| 3xD | 10 | M. 8.2 | 47 | 89 |
| 3xD | 10 | M 8.5 | 47 | 89 |
| 3xD | 10 | M. 8.6 | 47 | 89 |
| 3xD | 10 | M 8.8 | 47 | 89 |
| 3xD | 10 | M. 9 | 47 | 89 |
| 3xD | 10 | M. 9.2 | 47 | 89 |
| 3xD | 10 | M. 9.5 | 47 | 89 |
| 3xD | 10 | M. 9.8 | 47 | 89 |
| 3xD | 10 | MM.10 | 47 | 89 |
| 3xD | 12 | MM.10.2 | 55 | 102 |
| 3xD | 12 | MM.10.3 | 55 | 102 |
| 3xD | 12 | MM.10.5 | 55 | 102 |
| 3xD | 12 | MM.10.6 | 55 | 102 |
| 3xD | 12 | MM.10.8 | 55 | 102 |
| 3xD | 12 | MM.11 | 55 | 102 |
| 3xD | 12 | MM.11.2 | 55 | 102 |
| 3xD | 12 | MM.11.5 | 55 | 102 |
| 3xD | 12 | MM.11.8 | 55 | 102 |
| 3xD | 12 | MM.12 | 55 | 102 |
| 3xD | 14 | MM.12.2 | 60 | 107 |
| 3xD | 14 | MM.12.5 | 60 | 107 |
| 3xD | 14 | MM.13 | 60 | 107 |
| 3xD | 14 | MM.13.5 | 60 | 107 |
| 3xD | 14 | MM.14 | 60 | 107 |
| 3xD | 16 | MM.14.2 | 65 | 115 |
| 3xD | 16 | MM.14.5 | 65 | 115 |
| 3xD | 16 | MM.15 | 65 | 115 |
| 3xD | 16 | MM.15.5 | 65 | 115 |
| 3xD | 16 | MM.16 | 65 | 115 |
| | | | | |
| --- | --- | --- | --- | --- |
| | Shank dia (mm) | Flute dia (mm) | Flute Length (mm) | O.A.L(mm) |
| 5xD | 6 | M. 3 | 28 | 66 |
| 5xD | 6 | M. 3.3 | 28 | 66 |
| 5xD | 6 | M. 3.4 | 28 | 66 |
| 5xD | 6 | M 3.5 | 28 | 66 |
| 5xD | 6 | M. 3.8 | 36 | 74 |
| 5xD | 6 | M. 4 | 36 | 74 |
| 5xD | 6 | M. 4.2 | 36 | 74 |
| 5xD | 6 | M. 4.3 | 36 | 74 |
| 5xD | 6 | M. 4.5 | 36 | 74 |
| 5xD | 6 | M. 4.8 | 44 | 82 |
| 5xD | 6 | MM. 5 | 44 | 82 |
| 5xD | 6 | M. 5.1 | 44 | 82 |
| 5xD | 6 | M 5.2 | 44 | 82 |
| 5xD | 6 | M. 5.5 | 44 | 82 |
| 5xD | 6 | M 5.8 | 44 | 82 |
| 5xD | 6 | MM. 6 | 44 | 82 |
| 5xD | 8 | M. 6.1 | 53 | 91 |
| 5xD | 8 | M 6.2 | 53 | 91 |
| 5xD | 8 | M. 6.5 | 53 | 91 |
| 5xD | 8 | M 6.8 | 53 | 91 |
| 5xD | 8 | M. 6.9 | 53 | 91 |
| 5xD | 8 | MM. 7 | 53 | 91 |
| 5xD | 8 | M. 7.2 | 53 | 91 |
| 5xD | 8 | M. 7.5 | 53 | 91 |
| 5xD | 8 | M. 7.8 | 53 | 91 |
| 5xD | 8 | MM. 8 | 53 | 91 |
| 5xD | 10 | M 8.1 | 61 | 103 |
| 5xD | 10 | M 8.2 | 61 | 103 |
| 5xD | 10 | M. 8.5 | 61 | 103 |
| 5xD | 10 | M 8.6 | 61 | 103 |
| 5xD | 10 | M. 8.8 | 61 | 103 |
| 5xD | 10 | MM. 9 | 61 | 103 |
| 5xD | 10 | M. 9.2 | 61 | 103 |
| 5xD | 10 | M. 9.5 | 61 | 103 |
| 5xD | 10 | M 9.8 | 61 | 103 |
| 5xD | 10 | MM.10 | 61 | 103 |
| 5xD | 12 | MM.10.2 | 71 | 118 |
| 5xD | 12 | MM.10.3 | 71 | 118 |
| 5xD | 12 | MM.10.5 | 71 | 118 |
| 5xD | 12 | MM.10.6 | 71 | 118 |
| 5xD | 12 | MM.10.8 | 71 | 118 |
| 5xD | 12 | MM.11 | 71 | 118 |
| 5xD | 12 | MM.11.2 | 71 | 118 |
| 5xD | 12 | MM.11.5 | 71 | 118 |
| 5xD | 12 | MM.11.8 | 71 | 118 |
| 5xD | 12 | MM.12 | 71 | 118 |
| 5xD | 14 | MM.12.2 | 77 | 124 |
| 5xD | 14 | MM.12.5 | 77 | 124 |
| 5xD | 14 | MM.13 | 77 | 124 |
| 5xD | 14 | MM.13.5 | 77 | 124 |
| 5xD | 14 | MM.14 | 77 | 124 |
| 5xD | 16 | MM.14.2 | 83 | 133 |
| 5xD | 16 | MM.14.5 | 83 | 133 |
| 5xD | 16 | MM.15 | 83 | 133 |
| 5xD | 16 | MM.15.5 | 83 | 133 |
| 5xD | 16 | MM.16 | 83 | 133 |